The Stretch Armstrong Show with Bobbito the Barber –  WKCR 89.9 FM – What more needs to be said about this seminal show that hasn't already been offered as testimony to its powerful influence. If you haven't already seen the documentary, it is must-see.
Since I am a notorious insomniac (with my JVC boombox right next to my bed), it was inevitable that I would discover their show one Thursday night and started recording. I often went right out and bought a stack of records played on their show. It was the Golden Era of Hip Hop.
The #4 recording includes a track that appears to be pre-production demo of EPMD's "Rampage" with LL Cool J. Stretch says something about "… Never heard before. Never hear it again." Of course, you can hear it in its entirety somewhere on YouTube.
The Stretch Armstrong & Bobbito Show WKCR 89.9 FM

The DNA – Hank Love JAM 105.9 Radio Show – WHBI/WNWK 105.9 was already a staple radio station for me since the early 1980s when Mr. Magic and the World Famous Supreme Team shows were playing. I think I first caught DNA – Hank Love in 1986 or so when I was living in Passaic Park, NJ. Rap was moving through its New School stage – somewhere between Electro and the sample era. Seemed everyone was sampling Funky Drummer. These recordings span four years of the show and include lots of banter, special guests, movie reviews, call-ins, and other commentary.
But the most memorable parts of the DNA – Hank Love Show were the commercials for the local hair shops, record stores, and recording studios. "IF YOU GOT NAPPY HAIR, BALD SPOTS…BILLIE JEEEEANS!!"
The DNA – Hank Love JAM 105.9 Show
About the Harry Allen tape… Way back in 1985, I was living in South Nyack, NY and was able to pickup some radio stations from pretty far away. One of them was WBAU 90.3 FM Adelphi University out on Long Island. (I called in a request one time for Herbie Hancock's "Autodrive" and the DJ was shocked that they were picked up that far away!).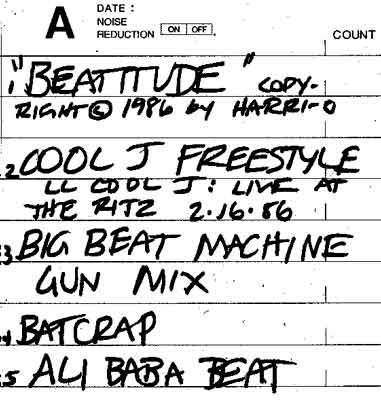 I was listening to a show around February, 1986 (Black History Month) when on came an articulate intellectual voice who spoke for a few minutes from a prepared script. The essay was a commentary about the state of South Africa's apartheid regime. As it progressed, I became transfixed. It was moving and informative. I called up the station and asked who it was and they put my on the line with the writer – Harry Allen (then known as Harri-O).
He sent me a cassette of the speech which I was inspired to turn into a remix using Art of Noise's "Paranoimia" (it's dreadful – not worth publishing here). I sent it back to him along with a few of my pausebutton remixes. In return, Harry sent me this cassette with some pausebutton remixes of his own.
In his letter, he said that had a dual deck cassette recorder which he manipulated in a way to get the strange mix of stuff you hear on these tracks.
Harry Allen's "Beatitude" (WBAU 90.3 FM) and pausebutton remixes
NYC Hip Hop Bits and Pieces – Here we have a few snippets of radio broadcasts from WHBI 105.9, WFUV, WRKS Kiss FM, WKTU Disco 92, and a couple live performances. The LL Cool J clip came from Harry Allen's tape, and I don't even know where I got the Masterdon Committee tape. I'm guessing that it was recorded around 1980 based on the original performance style. If you know the provenance of this recording, please contact me.
I learned to mastermix Disco and House music tracks from listening to the 92 KTU mastermixes on Friday and Saturday nights. I was only about 17 years old back then, so I was in bed rather than out in the real discotheques.
1986 WNYU 89.1 FM Flyer for the "Rap This" radio show with DJ P-Fine