NYC radio during the 1970s and '80s was loaded with variety, especially on the left end of the dial and at 105.9 WHBI/WNWK FM. There were college stations all over the NY/NJ/Long Island area that served all kinds of programming.
This collection of playlists provides a wide sample of reggae shows with particular attention to Gil Bailey. The Gil Bailey show was often scheduled close to the Hip Hop shows on 105.9 WHBI, as were some of the other reggae shows during the week. So it was an easy discovery to find them when tuning in to the Hip Hop shows a bit early.
The first track is a brief station ID from the WHBI days which I thought best personified the broad ethnic spirit of the station's programming. I cannot, however, find the backing track which is a dubbed-out version of "Flashdance (What a feeling)". It sounds like a Sly & Robbie production. If you know who's track this is, please send me a message.
There isn't a lot of banter in these recordings, but you can still catch a string of classic promos from Pat Bailey and from some of the other DJs.
Rootsman Earl Chin introduced me to some roots artists that went deeper than Bob Marley, such as Augustus Pablo, Ijahman ("Real aesthetical brother, dis one…"), Sugar Minott, and others.
Clinton Lyndsay had the most alluring program ID – a sultry voice repeating his name several times: "Clinton Lyndsay… Clinton Lyndsay… ahhhhh Clinton Lyndsay. Oooh-ah! Strictly rockers, a-yard…"
For the next one, I am unsure about the name of one of the radio hosts – Donald Laws. I could not find any background information on him and can only go by what his last name sounds like. Please send me a message if you can correct this for me.
Clive Hudson, The Master Blaster, introduced me to original Ska and oldies classics. I have a stack of Horace Andy, Alton Ellis, Upsetters, and other greats' records thanks to Mr. Hudson.
I used to have a recording from another reggae host named DJ Knapp (spelling?) whose personal ID used to be played incessantly over the music, and it went on and on and on. If I discover that tape, I will add it.
One night in 1995, I happen to catch the broadcast of Reggae Rhythms on WCKR 89.9 FM when the host returned from a trip to England. He played some Ragga Jungle Drum 'n' Bass for the first time which is represented here. He says it was the first time D 'n' B had been broadcast in the U.S., but I can't verify that (check about 2/3 of the way through the track for the banter). I will never forget the first time I heard Jungle Drum 'n' Bass. My hair stood up on end – blown away. It was an otherworldly sound, yet its makings were so easily understood: it's just sped up to a point of absurdity, and then turned into music. These tracks were rooted in the fetishized "Amen Break" era.
I was immediately hooked, and later collaborated with my sister Julie Covello in 2002 as the editor and co-writer of her Jojo Mayer documentary "Prohibited Beatz". It featured the underground D 'n' B culture in NYC/Brooklyn and how drummer Jojo Mayer dropped everything in his successful career to pursue the rhythms and textures of Drum 'n' Bass in a live venue.
The last two tracks are from "Studio One: In Finestyle", a mixtape that was given to me as a gift from a brotherly dred. I can't remember when, though. Probably in the 1980s.
Later, in 1997, I created a remix project called "Nighty-Night: Deep Soul in Dub" which involved remixing soul and funk tracks in the classic King Tubbys Jamaican Dub style. I borrowed some of the interstitial banter from "Studio One: In Finestyle" to use in it.
"Nighty-Night: Deep Soul in Dub" can be heard in the Weevie Remix section.
Studio One In Finestyle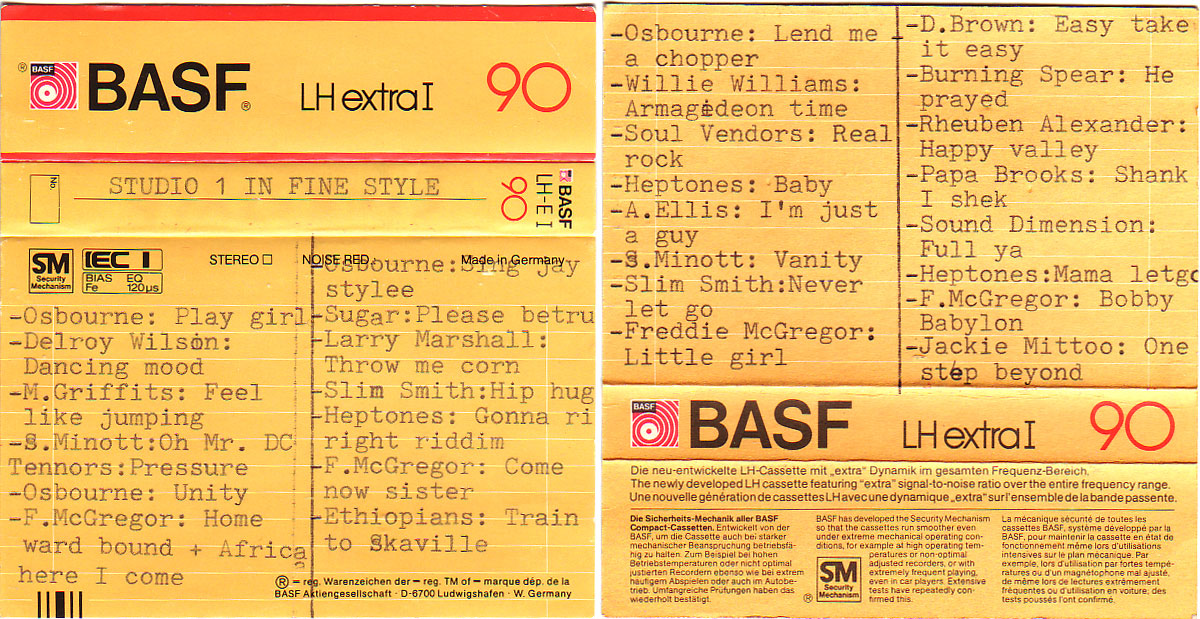 Cool Runnin's Reggae Radio Around Town – 1984